Varsity Football: Cowboys Get Bitten By Barracudas
BY JONATHAN PARES
On Friday September 6, the Cooper City Cowboys faced off against the Coral Reef Barracudas in an away game. Due to costly turnovers and poor offensive line play, the Cowboys quickly met their downfall and were defeated 46-0.
In the first quarter the Cowboys started off with the ball but were unable to capitalize on offense due to poor protection surrounding the quarterback and running backs. Coral Reef on the other hand started off strong. With 8:51 left in the first quarter they took the lead by scoring their first touchdown of the game. With the Cowboys now back in control of the ball, Quarterback Tyler Sabine was sacked and fumbled, allowing the Barracudas to recover the fumble and return it for a touchdown making the score 14-0.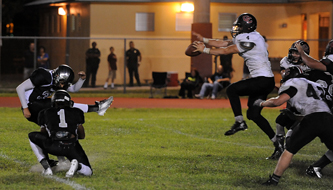 After another touchdown by the Barracudas, Grant Frasher blocked a rushing touchdown. Fueled by the impressive block, Sabine connected with Joe Turk for an 11 yard reception.
Nevertheless, the Cowboy's drive came to a halt due to the offensive line not being able to protect Sabine from being sacked. Although the Cowboys did have a few good plays (Lukas Volpe stopping a touchdown, a recovery by quarterback Quest Hopler and a noteworthy tackle from Jackson Nix), overall the offence was simply not able to compete.
During the fourth quarter, Hoppler started out with a 9 yard run, and a 15 yard connection with Kristian Gonzales. Unfortunately, it was too late in the game for a comeback and the final score was 46-0.
The Cowboys will play their next game away against Cardinal Gibbons at 7 PM. Better luck next time.
Side Notes:
Senior Tristan Patrone injured his knee; this can be a crucial injury.
The Cowboys are now 1-1 in regular season play.
Short URL: http://thelariatonline.com/?p=5914
Posted by
admin
on Sep 10 2013. Filed under
Sports
,
Sports Scoreboard
. You can follow any responses to this entry through the
RSS 2.0
. Both comments and pings are currently closed.