The Marlin Monstrosity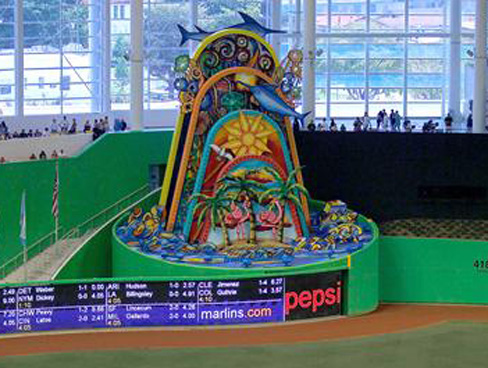 BY BLUE KAUFMAN
If you thought that the new Miami Marlins logo was an eyesore, I don't recommend taking a look at the homerun structure that is now embedded in the centerfield wall at the Marlins Ballpark. I've been thinking long and hard about a good metaphor that could accurately depict exactly how awful the thing really is.  Basically, "it's a small world" threw up on a Guy Harvey shirt and was then injected with a dosage of LSD this sculpture would be the end result.  The Marlins have redefined the word 'ugly'.  With the help of this monstrosity, they have reinvented the term 'tacky'.
Am I exaggerating? Being a bit too harsh?  Take a moment to scroll back up to the top of the screen and take another look at it. Study it. This is what we've become. I've been a Marlin fan my entire life, constantly standing behind the team during their triumphs and downfalls, but watching them turn into a  circus act is something different. The 75ft sculpture will be exploding in a grand celebration every time a Marlin hits a homerun. It is also conveniently equipped with bright blinking bulbs, splashing water, luminous palm trees, and flapping flamingos. Yeah, you heard me right: whenever a Marlin sends one deep this sucker's going to be flashing as if Christmas and the 4th of July were having a baby. The first time the thing started whirling I didn't know whether to thank second basemen Omar Infante or scream at him for making this happen. I'm leaning towards the latter. It's the kind of thing that makes you desperate enough to be pleading for home runs only hit at away games. It's that bad.
However for Jeffrey Loria, the owner of the team, the structure, which has now been officially named "The Marlinator", is a splendid addition to the stadium and the team as a whole.
"It's meant to make you smile" Loria said in an interview with the team. "It's meant to entertain. It's meant to be a rallying point in the ballpark, and that's exactly what it is."
What a moron. The only thing that "The Marlinator" might look splendid on is the cover of a Jimmy Buffet album, and probably not even then. The only people who will be smiling when they witness this atrocity will be easily amused children and someone's great aunt Teresa who takes Pilate classes every Wednesday and enjoys dancing to "the electric slide". And what's the thinking behind the marlin anamatronic that keeps rotating over the top as if the the things got some sort of brain hemorrhage? When will the madness end? Won't someone stop and think of the children?
That's not even the worst part. The real tragedy is that $2 and a half million was blown on this cheap Chuckee Cheese rip-off. That's a hefty price coming straight out of taxpayers' pockets.
Overall, if you were hoping for a red-brick and retro feel that has glorified America's pastime for over a century, you have come to the wrong place. It might be exciting to speculate on it a couple times, but "The Marlinator" is going to get really old really fast. This gimmick looks like something you shoot a water gun at to win your girlfriend a stuffed panda at the carnival. It has no place, whatsoever, in a baseball stadium.
Short URL: http://thelariatonline.com/?p=4347
Posted by
admin
on May 31 2012. Filed under
Blogs
,
Breaking Stories
. You can follow any responses to this entry through the
RSS 2.0
. Both comments and pings are currently closed.