Damsels In Success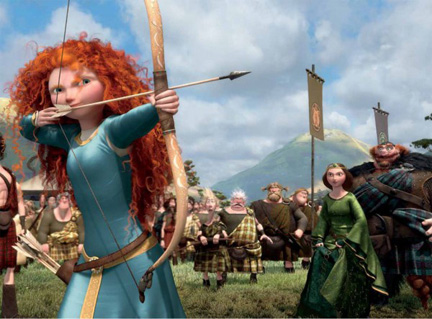 BY KAYLA LOKEINSKY
Since they were little, most girls have aspired to be like the Disney princesses. The fantasy, the magic, the hopes of a happily ever after: it all inspires them to wear crowns, play dress up, and have Disney movie marathons where they can study how a "real princess" would act. Recently, however, the image of Disney princesses has begun to change. They have moved a long way from young ladies waiting for some prince to come and rescue them. Now, the newest additions to the Disney collection have proven that you don't need a knight in shining armor to save you. These princesses have shown that it is possible to make the transition from damsels to heroes.
The original Disney princess films all revolved around young ladies with a "someday my prince will come" attitude. Beginning with the release of Snow White in 1937, and continuing down through the line of subsequent princesses, Disney has been criticized for perpetuating negative stereotypes of its female characters. Sleeping Beauty could not wake up without "true love's kiss", and Cinderella had to wait for her "prince charming" to come and whisk her off to a "happily ever after". These young ladies were portrayed as helpless, passive victims who needed protection, setting high standards for how a girl should look and act without teaching the importance of independence.
"The old Disney princesses were pretty, but that's all they were," sophomore Gabby Wright said. "They always needed saving."
With the newest Disney characters coming onto the scene, one must ask: is the term "princess" being redefined? These new young ladies have made their place in Disney history by being some of the first female characters who are able to save themselves. For example, Tiana, from the 2009 film The Princess and the Frog, was more than just a pretty face: she was a strong, independent woman, who through hard work and quick thinking was able to save herself and her prince from a voodoo curse. Also, Rapunzel from the 2010 Disney movie Tangled, was able to stand up to the evil witch who kidnapped her, while in the process chopping off her long golden locks and proving her independence.
"The newest Disney princesses are definitely better than the old ones," Wright said. "They showed that a girl doesn't need a man to save her; she can save herself."
These two characters have paved the way for the newest addition to the Disney princess collection, Brave. Set to be released this summer, Brave tells the story of Merida, a skilled archer and impetuous daughter of King Fergus and Queen Elinor, who is determined to prove her worth. Merida ignores an age-old tradition of a woman not being able to fight, inadvertently causing controversy and chaos in the kingdom. When she turns to an eccentric Witch for help, she is cursed and must discover the meaning of true bravery by undoing the spell before it's too late. Merida proves that a girl can be just as brave, if not braver, than any man, and that even a young princess can save a kingdom.
"Brave looks like a great movie," sophomore Emily Emberg said. "She looks and acts like a real girl, not just a princess."
These new Disney princesses teach young girls that you don't need a hero to come and rescue you, but that you can be your own hero. They are setting positive examples for girls that they should be strong, independent, and brave, while still keeping in mind that they all deserve a "happily ever after", just as long as they earn it for themselves.
Short URL: http://thelariatonline.com/?p=4331
Posted by
admin
on May 31 2012. Filed under
Entertainment
. You can follow any responses to this entry through the
RSS 2.0
. Both comments and pings are currently closed.