I Waste So Much Time: Procrastination Made Easy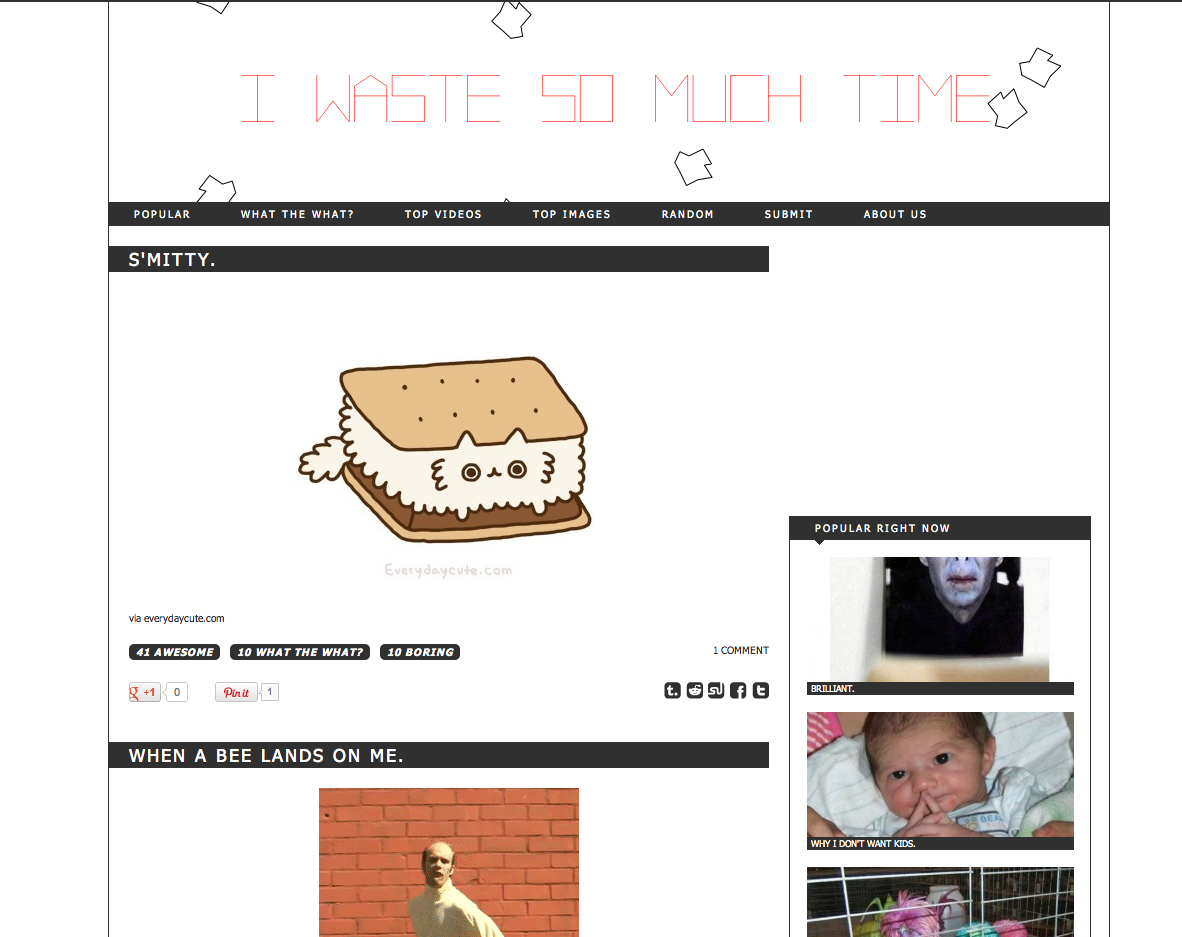 BY GABI TABIB
It is late and unfinished homework is piled high on the already cluttered desk of forgotten assignments. Atop the papers is a laptop, humming softly as the lingering webpage displays an array of comic strips and funny videos. These pictures belong to a website that has given procrastination a whole new meaning. This website is called IWasteSoMuchTime.com.
IWasteSoMuchTime.com was created by graphic designers Hans Johnson (he makes it look good) and Jared Wunsch (he makes it work) as a way to compile "funny or interesting junk that we find online throughout our work day". Making this website was a no-brainer after their successes with their other websites: DearBlankPleaseBlank.com, GrouchyRabbit.com, and Attack of the Cute.com.
IWasteSoMuchTime.com made its internet debut on July 11, 2011 and although only in it's first year it has collected a large fan-base.
The website's success has much to do with the fact that all its content comes from user submissions. These submissions range from hilarious Youtube videos to the rage comics that have become an internet craze. Johnson and Wunsch both go through the submissions daily to make sure that they are worthy of being put on the website. The qualifications to get a submission "published" are simple enough: it has to be funny, and it should be clean. Both creators are partial on cursing and believe that if the picture or video isn't funny without it, "then it isn't funny to begin with."
For many, visiting IWasteSoMuchTime.com has become a multiple times a day ritual, considering the website is constantly updated. Just scrolling through the endless pages is enough to entertain those stuck inside on rainy days (or in the middle of a boring class for that matter), but if that's not enough there are other things to do on the website.
There are tabs at the top of the website that redirect to the best pictures that do, in fact, provoke literal LOL's. Another tab redirects the the top videos that are more time consuming for those that really have time to waste. A random tab picks videos and pictures at random to mix up your web-surfing experience.
For those that have time to kill, IWasteSoMuchTime.com is a website that can definitely help. But for those who have projects to do, tests to study for, or deadlines to meet, it's best to wait for summertime to take a look at this website, for it truly lives up to it's name.
Short URL: http://thelariatonline.com/?p=4299
Posted by
admin
on May 24 2012. Filed under
Entertainment
. You can follow any responses to this entry through the
RSS 2.0
. Both comments and pings are currently closed.